CRUISE CARIBBEAN 1997
This was our very first cruise taken in Nov/Dec 1997.
The reason we had left it relatively late in our lives to experience a cruise is down to me. I am the world's worst sailor and can get seasick sat on a floating lilo-bed.
Jacqueline persevered with me and after we had tried a cruise down the Nile I agreed to give a proper cruise a try.
Why I agreed to one that involved crossing the Atlantic I can't remember.
This was our cruise ship:
Thomson's ISLAND BREEZE.
Our cruise route was very extensive, commencing with a flight to Majorca to pick up the ship:
Embarking at Palma, Majorca. For some reason our cabin had been upgraded from 2 berth to 4 berth.
At midnight we went up to the top deck:
And watched the Sail- Away.
When I awoke the next day the ship was rolling slightly. Jacqueline was still asleep so I went to investigate breakfast options. I was beginning to feel nauseous and tried to go to the ship's side to be sick. I couldn't hang my head over the side because the barrier rail was positioned too far back. I contemplated climbing over it but there was a 50 feet drop and no one around to see me if I fell. I chickened out and managed not to throw up.
I didn't have any breakfast and felt so uncomfortable I couldn't have cared less if the ship sank.
By lunchtime I was feeling a lot better, ate a good meal and found it warm enough for us to sunbathe.
That evening we went to the Captain's welcome cocktail party:
Next morning we were in Tangiers. the previous night we had become friendly with two other couples and the six of us teamed up to explore the town:
We all bought leather items because they were good value. Not so much the cream cakes that were in the open air. You could hardly recognise them because they were covered in flies.
Our next day was all at sea and we took advantage of the warm weather:
At 7am next day we awoke to find ourselves in Madeira. Here, we booked an all-day excursion around the island,
The first stop was at Camara De Lobos:
Another port we stopped at was:
Ribeira Brava.
After visiting two more ports we were taken to a hotel for a 3 course lunch. Outside the hotel were rock-pools to explore: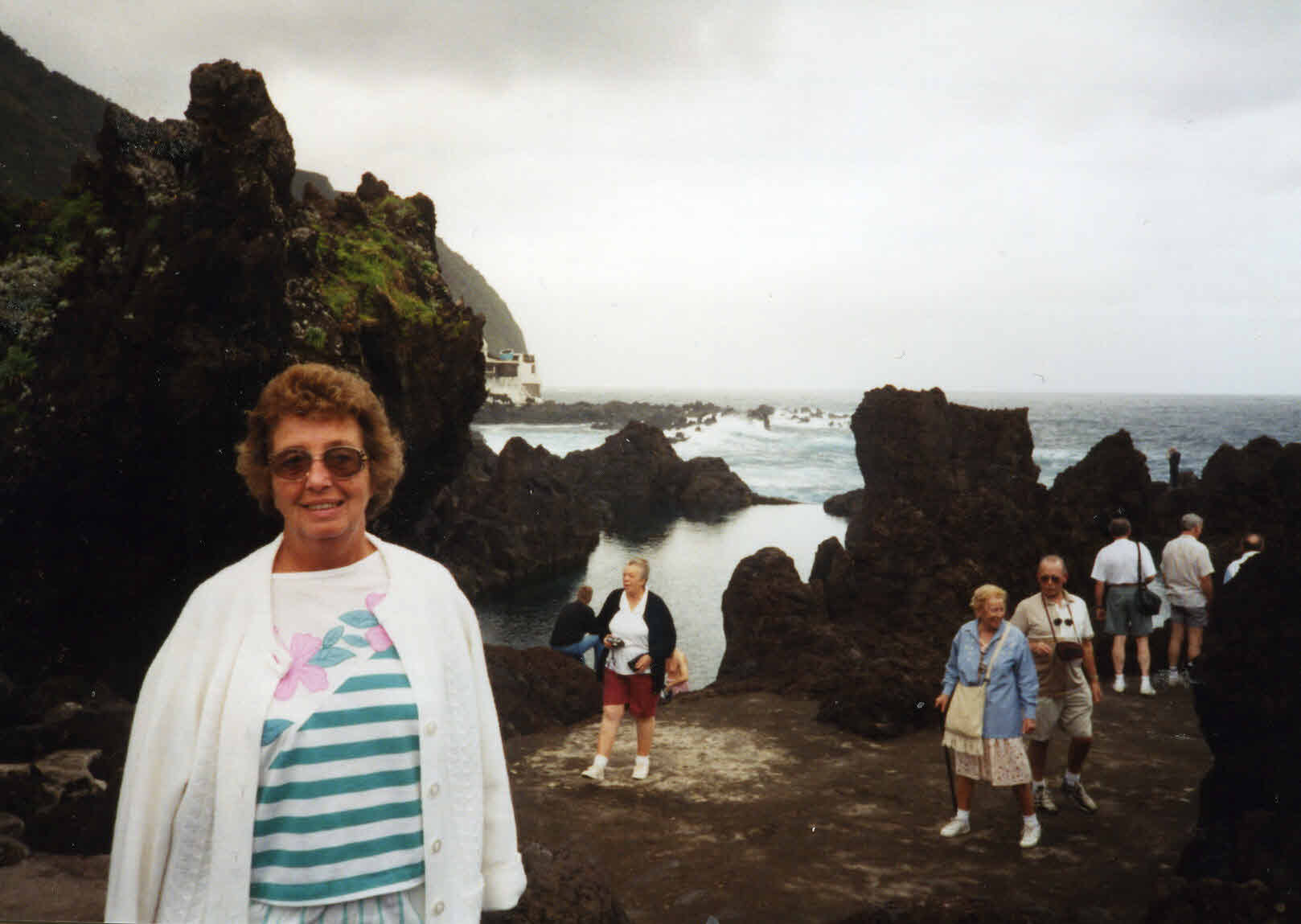 Then we were taken on a very narrow road on the side of a mountain to St Vincent:
Passing through a tunnel complete with waterfall.
Finally we were taken back to Funchal:
Where we visited a wine-tasting shop and local market. At 7pm we set sail to cross the Atlantic.
Over the next few days we relaxed in the sun-loungers. ( our captain had certainly found us a warm route to follow)
The ship's food, daytime activities and evening entertainment kept everyone happy on our long voyage.
We took the opportunity to learn and see how the ship was controlled:
Joined in with deck shuffle board and began to pick up a tan:
We continued to enjoy the good food and dressed up for the second formal evening:
We spent some time with Les and Pam a couple we had become friendly with.
Tonight was also the night of the Gala Buffet:
The evening was certainly a new experience for us - A moving restaurant overflowing with an unbelievable amount of food.
Live dance music on the top deck of a ship with friendly people everywhere.
Then dancing under the stars in the warm evening air.
On day 12 of the cruise and after 6 days at sea we saw land:
Approaching Bridgetown, Barbados
We had pre booked a Safari Tour and were quickly on our way:
A short while after setting off the vehicles turned off the road and headed into the rugged landscape. We drove through a forest and then entered banana and sugar plantations.
The trail continued until we reached the town of Bath Sheba where we saw some amazing scenery:
And the scenery got even better: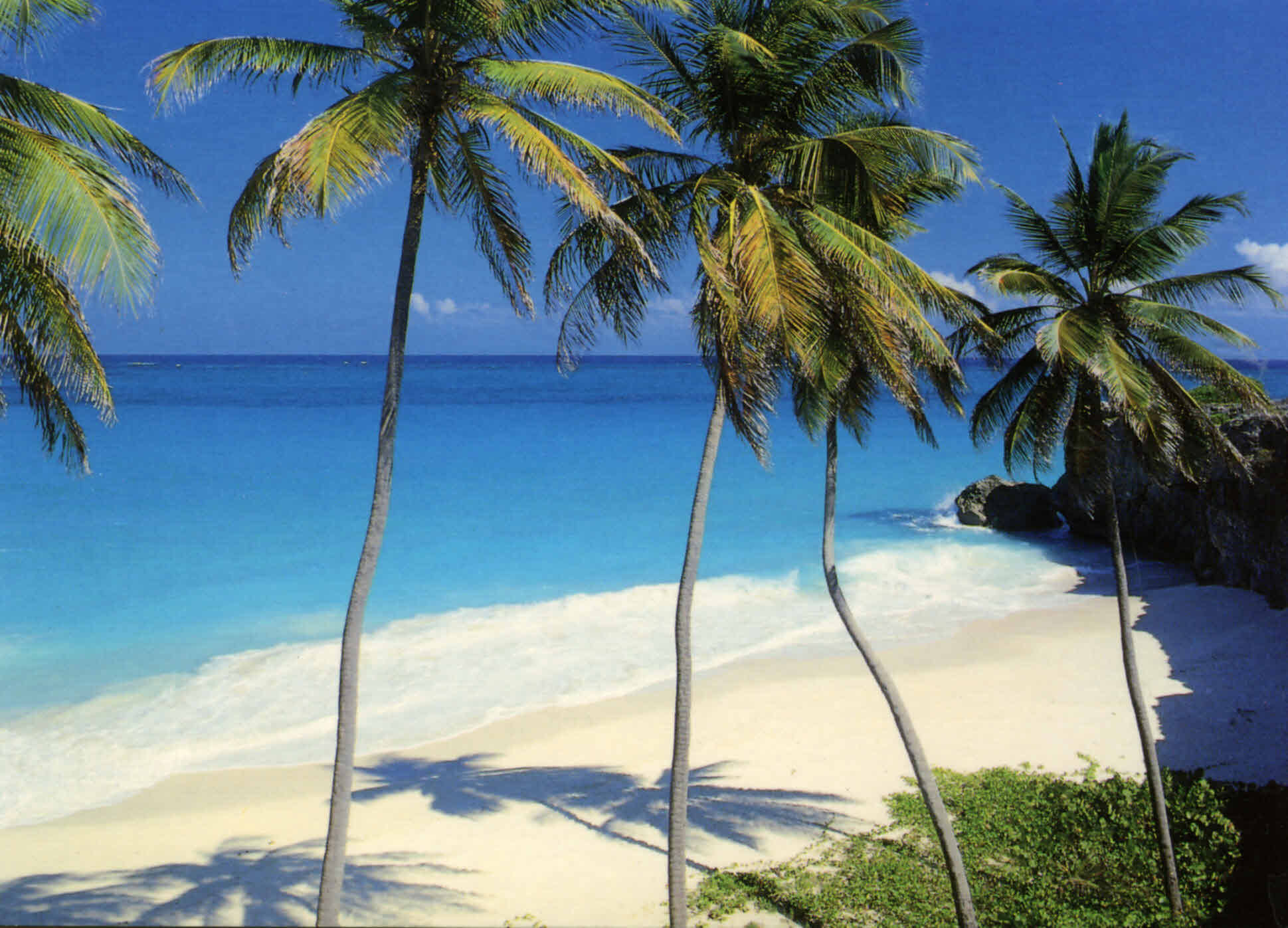 A couple of us asked the driver if he could take us somewhere for a swim. He took us here:
Crystal clear water.
Back at the ship the dress code for our evening meal was Tropical. We had nothing suitable to wear so we had to return to the shops at the port terminal.
Well that's as tropical as it's gonna get.
Tonight we were eating on the top deck at what was billed as A Tropical Deck Party. We were beginning to wonder how the Cruise Company could afford to put on such extravagant spreads of food:
Next morning we awoke in a different port and was greeted by this view: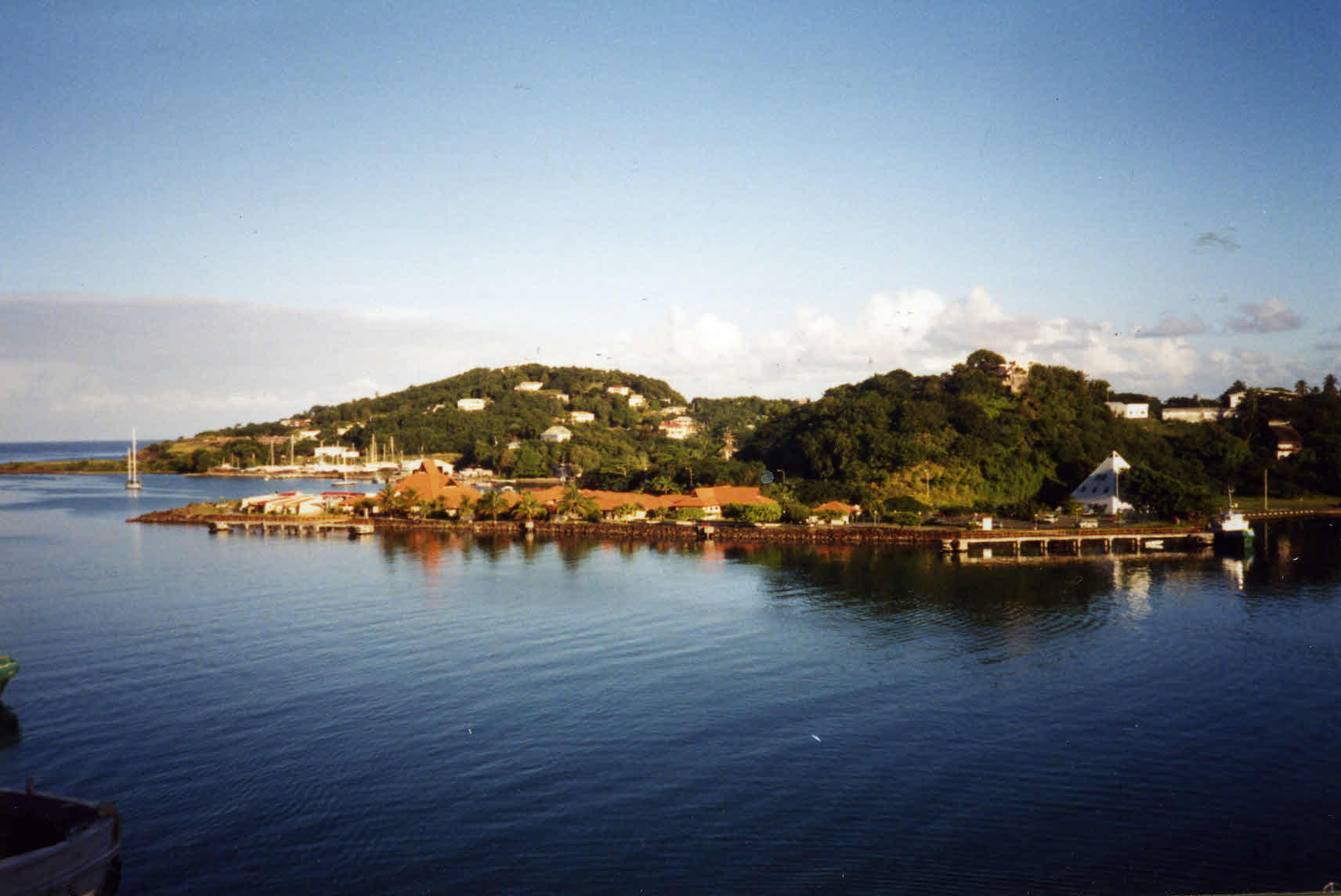 We were in the town of Casteries, the capital of St Lucia
We had pre booked an half day tour of the island. On the tour we were taken around Casteries and then to Morne Fortune. This was the site of many English/French battles for control of the island that changed hands 14 times.
After visiting a banana plantation we moved on to Marigot Bay:
This is one of the most beautiful yachting anchorages in the Caribbean. The tour finished with a visit to silk screen printing shop and then to a restaurant for complimentary rum punch.
Before returning to the ship we walked round the market in Casteries:
u
The following morning we found ourselves in yet another port - Pointe-A-Pitre, GUADELOUPE.
Today was Jackie's birthday ( the second time it had occurred whilst we were on a cruise). I had brought no present with me so I suggested she chose something from the ship's jewelry shop. She chose a necklace and bracelet from a chain of gold cobalt composition purchased by the inch.
Here we had booked another tour which took us first to see an Indian temple and then on a picturesque 45min drive through steep narrow roads and rainforest. Then we were on foot and our destination can be seen in the next photo:
We had been warned to take walking shoes but were not really prepared for what lay in store. There was a 40mimn walk through the rainforest on terrain which resembled an army assault course.
It was very warm and humid. Away from the path the forest was impenetrable. We could hear the waterfall but it was taking a long time to reach it. We pressed on and I was worried that Jackie was not going to make it bearing in mind we had it all to do again on the return journey.
We finally made it and the sight was pretty impressive:
The site of the water immediately brought on a toilet urge. Fortunately we had been advised to wear swimming costumes so I'll leave you to guess what happened.
We set off back and covered the return journey fairly quickly and our coach was the last to leave.
Suddenly someone mentioned that the ship was due to sail at 1.pm and it was that time now. Then we came across one of the other tour coaches with the driver waving frantically at us. He had run out of petrol! We had to squeeze on board many more passengers.
We arrived back very late with the crew waiting to pull in the gangplank.
After a buffet lunch we watched the ship leaving for our next destination
That evening was formal again and the meal was billed as The Captain's International Dinner;
The main course steak was the best we had ever tasted.
After the meal our 3 table waiters sang Happy Birthday to Jackie.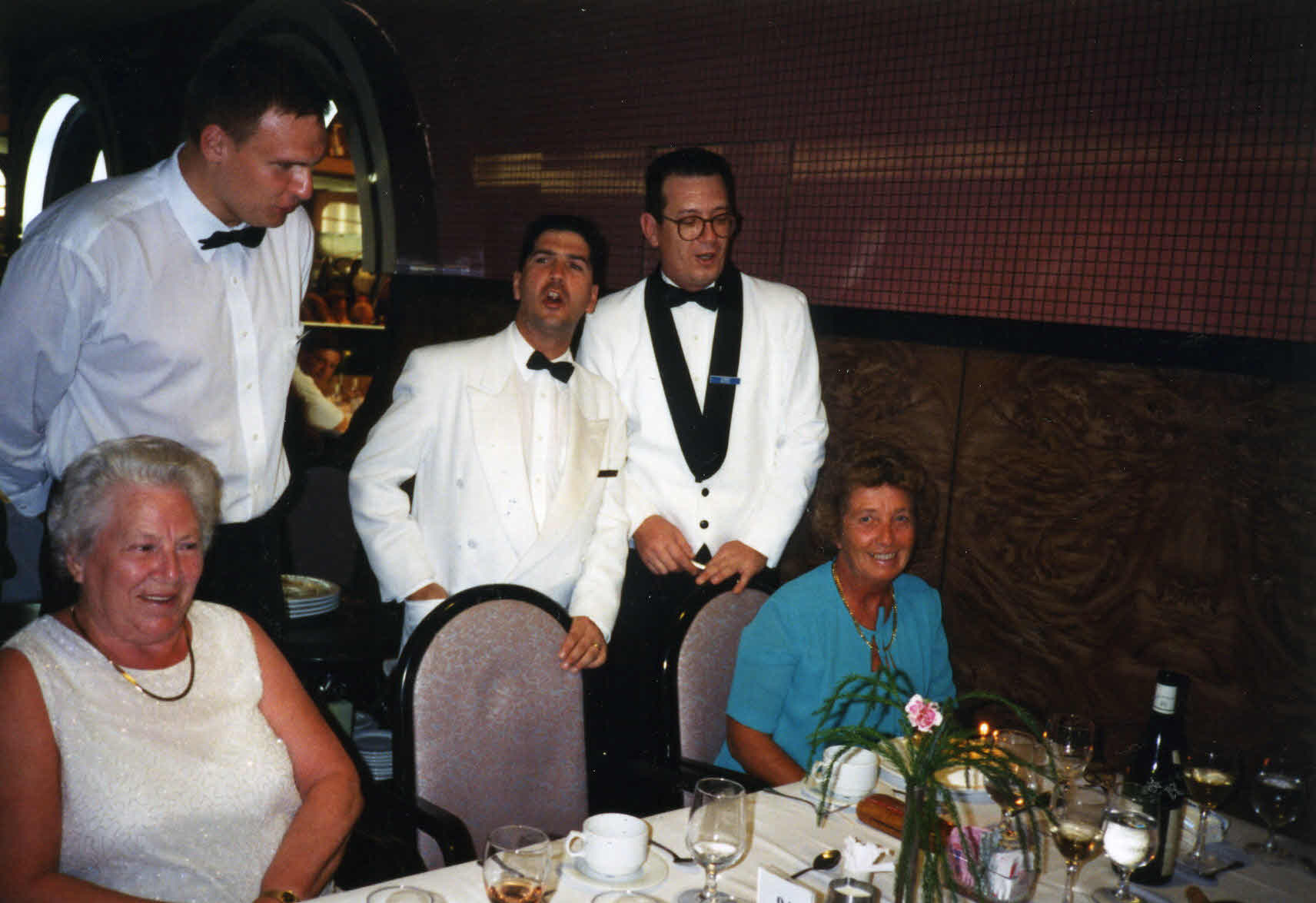 TIP: "How to remember your wife's birthday" Forget it just once!
On day 15 of the cruise we were docked in the harbour of Charlotte Amalie, St Thomas.
St Thomas is a beautiful island but we didn't book a tour here - just potted around the shops.
Bargains were to be found and we purchased A large embroided Christmas table cloth
A Panasonic Walkman, 6 Tee Shirts for the grandchildren and some duty free drink.
In the evening we tipped and said goodbye to our cabin waiter, Domingo:
On the final day of the cruise we were docked at Santa Domingo, Dominica Republic.
We had just a short stay here so we sunbathed before flying home.