CARIBBEAN CRUISE 2008
This Thomas Cook cruise was taken in Feb/March 2008.
The cruise route is shown below:
Thomas Cook have two cruise ships called OCEAN VILLAGE 1 & 2
They are both described as " For people who don't do cruising".
All this means really is that there are no Formal Nights where a higher dress code is expected.
This was our ship:
Ocean Village 1
The holiday began with a long 10 1/2 hour flight to Montego Bay in Jamaica and then a transfer to the ship for cabin allocation.
We had been place on Deck 11, the highest we had previously been on:
We were well-pleased with the cabin which was 4 berth. It had loads of room and a porthole.
The next morning (we were at sea all day) we were off just after 7am to sample breakfast.
I went a little over the top with my food selection:
Started with cereals and a mixture of pecans, strawberries, apricots, dates, prunes, and grapefruit.
This was followed by: eggs, bacon, sausage, mushrooms, hash Browns, beans, and rice with prawns.
There was a choice of 4 restaurants on the ship. One was a speciality restaurant managed by James Martin where you paid to have slightly better food:
You can see him here giving a demonstration lecture on board the ship.
The weather was at its best and whist sunbathing we ordered two freshly squeezed orange drinks.
Big Mistake! Cost = £9
From the time we boarded the sea had been relatively calm and I had no problems with sea-sickness. Then a squall put white crests on top of the waves and my long-standing problem kicked in. I went through the motions of getting ready for our evening meal but knew I was not going to be able to eat so Jacqueline had to go alone. I felt no better when it was time for the evening entertaiment so Jackie went there alone too. Later she told me there was hardly anyone there. Evidently I was not the only one suffering. Half the ship's passengers had retired early to bed.
By 10am the next day we had docked:
Our first port of call was Progreso, MEXICO.
We boarded the ship's shuttle which took us to a marketplace. in this market we met an American who was offering coach tours. He said he would take us to several places of interest for just £6 each- we accepted.
Off we went to see the Salt Flats: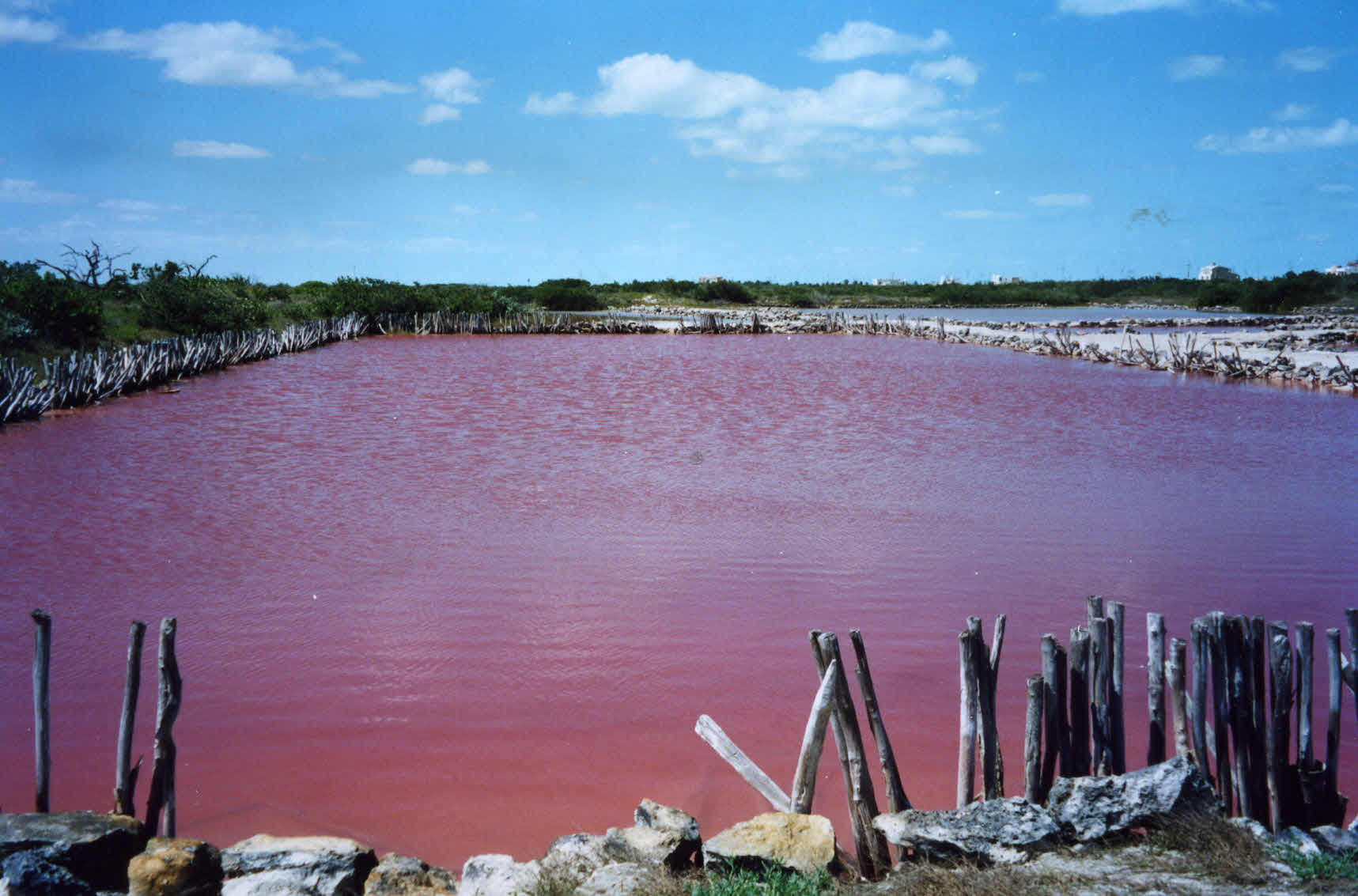 In addition to the driver we had a guide and he explained how the salt crystals were formed from 4 months up to 2 years. The red colour is caused by minute organisms.
This part of Mexico is knowr for the ancient Mayan empire and we were taken to see the ruins.
The empire existed between 2,500BC to 250 AD.
We completed the tour with a drive through the town seeing several iguanas on the way.
Quite often on cruise ships you will find TV celebrities working on board. These were two on our ship:
The TV dancers Camilla Dallerup and Ian Waite.
They were teaching on one of the decks so we went to watch:
The following morning we found ourselves in Cozumel, Mexico
Moored alongside you can see another ship, the American " Mariner of the Seas". Our ship weighed in at 65,000 tons but the American one was a colossal 112,000 tons. Well, that evening our ship was having a sing-song on the top deck led by a DJ who was not going to let the larger ship get the better of us. The top deck of the other ship towered above us:
Their ship was due to leave before us and was lined with Americans looking down on us.
There were hundreds of us and we saluted our American comrade's sail-a-way by singing " American Pie".
Then just to let them know we could out-sing them we belted out a rendition of " Rule Britannia".
They must have appreciated the gesture because they gave us a loud cheer.
On Day 5 we arrived at BELIZE CITY, BELIZE:
Here we had to anchor offshore because the place was not big enough to hold a cruise ship.
We had to go ashore by tender. Outside to port terminal we were approached by a coloured man who offered to take us on a tour of the city for £20. We accepted and he asked us to hang on while he fetched his car. After a few minute a very smart looking white van pulled up and beckoned us to get in. We did and noticed it was not the same person we had booked with. This is not unusual because sometimes the person you negotiate with has several drivers working for him.
Then we found we were in the wrong vehicle. This driver was just trying to secure work for himself. We got out and when the correct vehicle arrived we were dismayed- it was really clapped-out. When we set off it quickly became apparent that he couldn't engage first gear and the engine sounded as though it wouldn't last much longer. I asked him how many miles the car had done and he replied- 245,000.
The tour was actually quite enjoyable and somewhat amusing when we hit heavy traffic. Once, instead of stopping behind a stationary car in front of us, because he couldn't get first gear, he drove into a garage forecourt and out the other side so that he could keep the car moving.
Day 6 found us in another port:
ROATAN, HONDURAS
There was a big attraction here and something we had always wanted to do.
"Swim With Dolphins" There was an organised tour available from the ship so we booked it.
As this is No. 65 on our list of 100 Things to see and do you can either click on this number later or you will be taken straight to it if you
The evening entertainment was billed as a Tribute to Freddy Mercury of the rock group QUEEN.
The music and songs were fantastic. All of Queen's hits were performed by a Freddy Mercury lookalike who copied the antics of the original singer:
Day 7 of the cruise took us to GEORGE TOWN, GRAND CAYMAN
As normal for many of the Caribbean islands the town centres are full of jewelry shops. We had a look round and were determined not to buy this time.
We did spend a lot of time looking at a gem called AMMOLITE, a colourful stone made from 65 million years old fossils of shells:
Ammolite is one of the last precious gems to have been discovered, is incredibly rare, and mined only in Alberta, Canada.
Whilst on holiday there in 2005 we purchased a pendant for £114 which Jacqueline was wearing at the moment.
Several shopkeepers examined her necklace and said it had now increased in value to £250 - £300.
Outside another shop were two parrots on a stand. Jacqueline was quite happy to get acquainted with then until they started to undress her:
At 6 30pm we were on the final leg of the cruise back to Montego Bay.
We arrived there next day at 7am and were not due to fly out until 5pm so there was time to see some of the island.
After leaving the ship we took a taxi into town to look for something to do. There, we overheard a coloured man chatting to two other passengers telling them he would charge £18 an hour to take them both on a tour. When he noticed me eavesdropping he said it's the same price if four of you go. We all agreed on a 2 hour tour.
Our guide had a smart vehicle and said his name was Jolly. Our first stop was at a large house owned by the whisky makers, DEWARS@
Then on to the houses of Kenny Rogers and Sylvester Stallone. We also toured the ghetto areas and golf courses. Then finally on to Rose Hill House that has a morbid history which I won't go into here. So ended the holiday: