WALK ON A LIVE VOLCANO
We have actually done this twice.
The first was when we were on a cruise visiting Majorca, Malta, Sicily, Italy, Sardinia and Corsica in July 2004. We were docked in Messina, Sicily and had booked the ship's half-day tour to MOUNT ETNA.
The mountain is over 11,000 feet high and our coach climbed the mountain up to a height of 6,500 feet. Then we had to get out and walk. Not easy because Jacqueline had come in open sandals.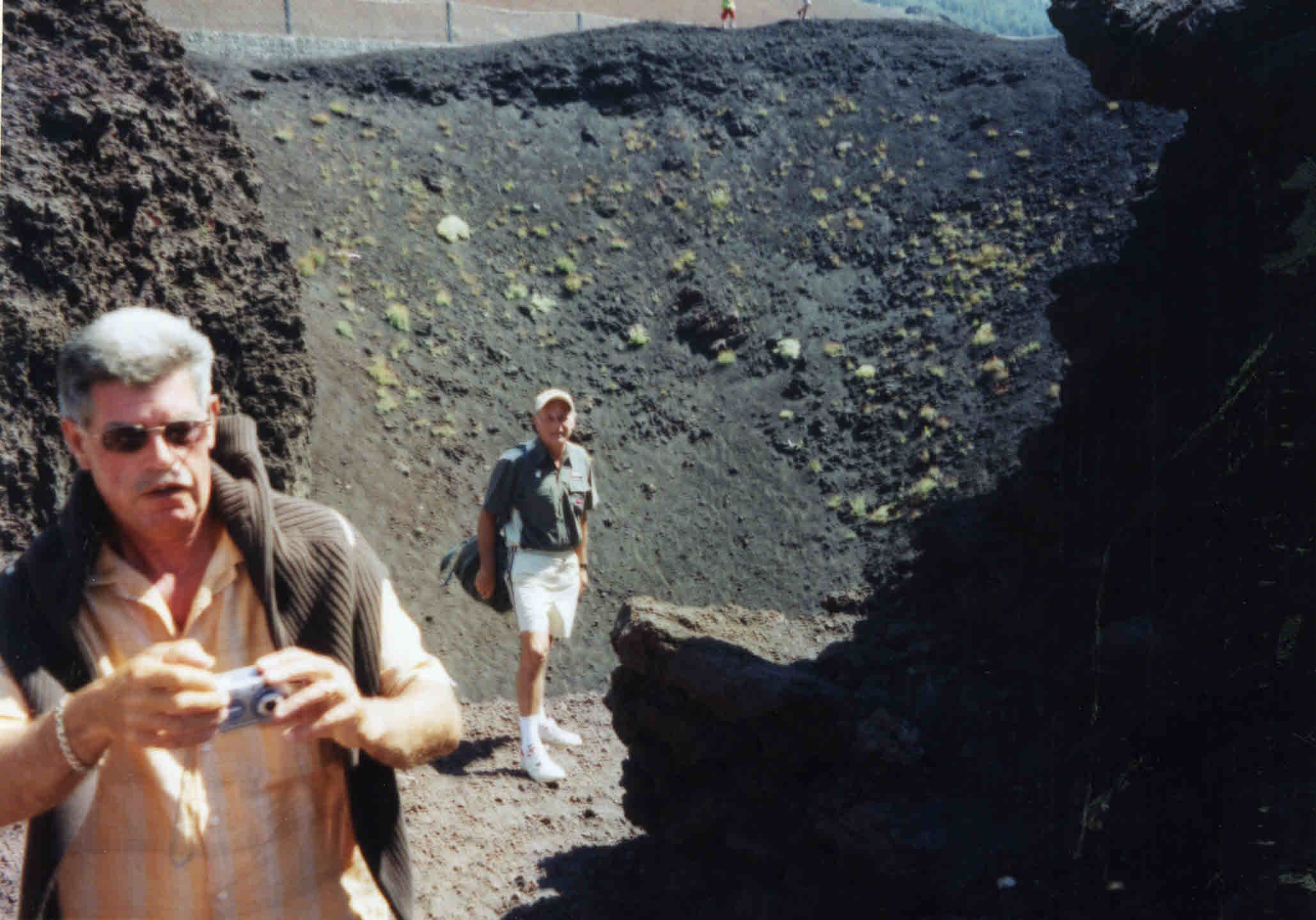 I lost count of the number of times we had to stop to allow her to remove the grit from her sandals. We couldn't see the summit so I climbed alone for a few more hundred feet but the top of the mountain got no nearer so I gave up.
Mount Etna is an active volcano and smoke continuously rises from its main central peak. It is, in fact, one of the world's most active volcanos and in the year 2000 an entire ski-slope and hotel were been wiped out by lava flow. Not all volcanoes are the same. Etna has around 300 smaller craters and consequently is unlikely to erupt with a single devastating result. Unlike Mount Vesuvius, near Naples ( where we would be visiting the next day).
Later that evening we had left Sicily and were on the top deck at a Pool Party. The sky was pitch black and the Captain announced that we were passing another live volcano called " STROMBOLI":
Unbelievably, a couple of thousand people live on this island at the base of one of the world's most active volcanoes. It erupts every 15 minutes!
Our second experience of walking on a live volcano was also whilst on a cruise, but many thousands of miles from Etna. This time we were docked at HILO on the island of Hawaii.
Again, we had booked a tour to take us to a volcano national park. Again, our coach had climbed many thousands of feet before stopping. ( note the clouds in the distance)
The driver had stopped to let us see steam rising from a hole in the ground. This was cause by rain water seeping through the rocks and reaching molten lava.
The Island of Hawaii has 3 volcanoes two of which are active and emitting lava which is gradually increasing the size of the island.
This huge volcanic crater, 1.5 miles wide, has a floor of solidified lava from which only puffs of smoke and steam are rising.